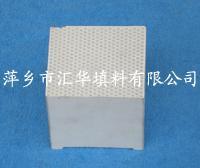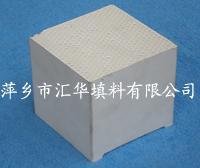 Honeycomb Ceramics(ceramic
Product Description
Honeycomb ceramic heat accumulation substrate has low heat expansion coefficient, large surface area, good heat stability and anticorrosion. It has got a wide application in many industrial productions. Our company has produced more than 10 types of honeycomb ceramic heat storage substrate according to the USA and European series of honeycomb ceramic materials.
Typical applications: high temperature heat accumulation and exchange in industrial waste gas treatment for metallurgical, chemical and construction material industries.
Features:
1) No x purification system in the smoke of the thermal powe plant;
2) The harmful gas purification system in rubbish burning;
3) Poison gas purification system in chemical and mining industries. The slag filter for casting production in the metallurgical industry, The catalyst substrate, stuffing material for chemical industry columns and contact combustion.
specifications:
150×150×600/450/300/150/100/50 100×100×100/40
Advantages:
The main usage is as follows:
1)Tower packings - With high surface area, even distribution of fluid and, efficient in mixture separation in chemical & petrochemical industries.
2)Catalyst carriers - Reduce the oxidation temperature of VOC in purification of industrial exhaust gases in RCO systems and automobiles.
3) Regenerative heat step - up transformer - Large heat capacity, low resistance to fluid and, energy saving up to 40~70% in RTO systems.
4)Gas combustion distributor - Distribute the heat uniformly, and make the combustion completely, It can save energy more than 10%.
5) Kiln furniture in refractory industries - Low bulk density and high thermal efficiency.
Export Markets:
homeland,Asia,Europe,North America
Pricing:
usd1
Payment Details:
Consult
Min Order:
1sqm
Ship Date:
3-60 days